The best floor master – these are exactly our suppliers of premium wooden floors. And one of them – Panaget – we visited in France.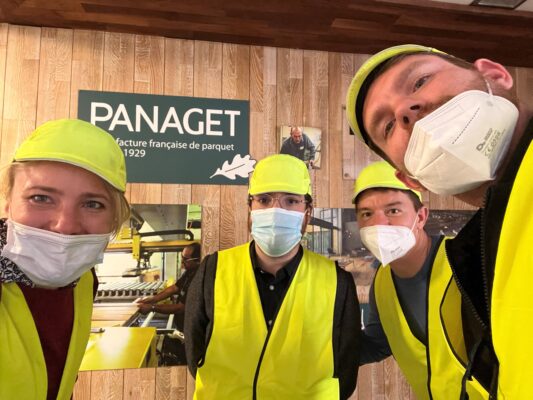 In this Breton village, watched over by its belfry and our factory's towers, our employees' enthusiasm and hard work have allowed the Panaget range to flourish. We have been growing constantly since 1929, transforming our craftsmanship into proven manufacturing expertise that is recognized throughout the industry. All this is achieved with two plants, 150 employees, 100% French oak, and integrated product development and design. Panaget is a true success story.
Panaget relies on several pillars of success: hard and honest work is a matter of course, but the company is also focusing on environmental responsibility. This way you can be sure that all wood and raw materials are local. Quality is guaranteed by the adoption of the strictest French and European directives. Plus each board leaving production is inspected manually. In short, if you want French elegance in the highest quality workmanship, Panaget is a great choice. We have seen this for ourselves in France and we will be happy to introduce this brand to you in our showroom, where you will find an inexhaustible number of samples.
Text: Valen&Masar
Photo: Valen&Masar